Earth
Theatrical Release:
April 22, 2009
DVD Release:
September 1, 2009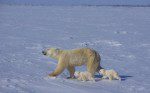 Synopsis
The first film in the Disney nature series, earth, narrated by James Earl Jones, tells the remarkable story of three animal families and their amazing journey across the planet we all call home. earth combines rare action, unimaginable scale and impossible locations by capturing the most intimate moments of our planet's wildest and most elusive creatures. Directors Alastair Fothergill and Mark Linfield, the acclaimed creative team behind the Emmy Award®-winning "Planet Earth," combine forces again to bring this epic adventure to the big screen, beginning Earth Day 2009.
Dove Review
This film beautifully reveals nature in all its glory by featuring earth's creatures, everything from polar bears to elephants and dolphins. The viewer will laugh as the large elephants bump into each other while on a walk, and as a certain bird primps to impress a lady bird! The humor includes a couple of young polar bears who get into mischief, and the narrator says, "Unlike humans, polar bears don't always listen to their mom!" The cinematography is stunning and the landscapes are gorgeous as the film features snow-capped mountains, waterfalls, and the jungle.
Warning, it should be noted that the movie shows life's harsh realities and the food chain of life as certain creatures prey on each other. It is not gratuitous but in one scene a bear tries to kill a walrus and in another scene a leopard begins to bite down on a gazelle's neck and a pride of lions attack a female elephant
The beauty of the various seasons and animals will wow viewers and the strong voice of narrator James Earl Jones is enjoyable to listen to. The film only lightly touches on global warming for those who don't wish to hear about it. You will not look at the earth the same way after viewing this fantastic and informative film! We gladly award this movie our Dove "Family-Approved" Seal and five Doves, our highest rating.
Info
Writer:
Alastair Fothergill and Mark Linfield
Director:
Alastair Fothergill and Mark Linfield
Starring:
Narrator James Earl Jones
Reviewer:
Edwin L. Carpenter