Fighting
Theatrical Release:
April 24, 2009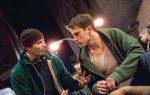 Synopsis
Small-town boy Shawn MacArthur (Channing Tatum) has come to New York City with nothing. Barely earning a living selling counterfeit goods on the streets, his luck changes when scam artist Harvey Boarden (Terrence Howard) sees that he has a natural talent for streetfighting. When Harvey offers Shawn help at making the real cash, the two form an uneasy partnership.
As Shawn's manager, Harvey introduces him to the corrupt bare-knuckle circuit, where rich men bet on disposable pawns. Almost overnight, he becomes a star brawler, taking down professional boxers, mixed martial arts champs and ultimate fighters in a series of staggeringly intense bouts. But if Shawn ever hopes to escape the dark world in which he's found himself, he must now face the toughest fight of his life.
Dove Review
This film just missed receiving our Dove Seal but unfortunately it is in three categories, in the sex, language and violence categories. These categories all hit a level three and anything above a two rating does not receive our Dove "Family-Approved" Seal. There is some blood in the film, although not as gratuitous as some we have reviewed, but there is a lot of fighting since the film revolves around street fighting for money.
The premise of the film begins with Shawn MacArthur (Channing Tatum) moving to New York with nothing but himself. He is broke. He sells counterfeit goods on the streets but when Harvey Boarden (Terrence Howard, who always does a good job) comes into his life he soon winds up as a street fighter, fighting for more money than he has ever made. He soon realizes that getting into this seedy side of life is a lot easier than getting out of it. The film has some good moments but due to the aforementioned content issues, we are unable to award our Dove "Family-Approved" Seal to the movie.
Info
Writer:
Robert Munic and Dito Montiel
Reviewer:
Edwin L. Carpenter