Obsessed
Theatrical Release:
April 24, 2009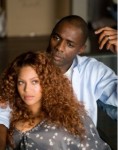 Synopsis
Derek Charles (Idris Elba), a successful asset manager who has just received a huge promotion, is blissfully happy in his career and in his marriage to the beautiful Sharon (Beyoncé Knowles). But when Lisa (Ali Larter), a temp worker, starts stalking Derek, all the things he's worked so hard for are placed in jeopardy.
Dove Review
This is pretty much the "Fatal Attraction" movie of today and, as that film was not considered family friendly, this one also cannot receive our Dove "Family-Approved" Seal. It is obviously not intended for the family as it has some frank sexual comments, scenes and innuendos in addition to strong language.
The story itself is handled by some good actors. Idris Elba does a good job as Derek Charles, the man who becomes the obsession of a temp worker named Lisa (Ali Larter). The temp worker also becomes known as, according to one office worker, the "temptress". Larter does a really good job of playing someone who can switch from nice to seductive to disturbed as if throwing on a switch. Beyonce Knowles plays the loving but jealous wife to Derek, Sharon, very well.
The direction in this film is very good in my opinion as it remains suspenseful and does not wander off into other directions other than the theme of the single woman who is obsessed with another woman's husband. To his credit, the character of Derek Charles remains faithful to his wife. He finally gets to the point that he just doesn't know how to stop the determined seductress but soon she gives herself away as the mentally disturbed person that she really is. It is unfortunate we cannot award our Dove Seal to the story but we cannot recommend this as a family-friendly film.
Info
Company:
Sony/Screen Gems
Reviewer:
Edwin L. Carpenter