Blessed
DVD Release:
August 11, 2009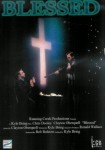 Synopsis
The story follows a day in the life of a young detective, Ike Willard. Stretched thin by his passion to help others, Ike is inspired to call upon the help of a higher power for the first time. This results in a series of events that takes Ike on an action packed roller coaster ride. After arguably the worst day of his life, Ike regrets ever praying in the first place. It takes a gunman, a mugger and getting hit by a car to realize that he was given great purpose.
Dove Review
This short story is a quick tale of a man's life in one day and how with the grace of God he gets through the day. It also tells of how sometimes you are intertwined with others who unbeknown to you are connected to everything that happens. Ike finds the answer to his prayer as he is protected through the day even as events, and not all pleasant, happen to him.
This is a short tale that reflects on one person's day that tells of the help from the power above as He watches over all of us. Dove awards "Blessed" with the Dove "Family-Approved" Seal for ages 12 and older.