Nazareth: Free to Laugh
DVD Release:
April 1, 2009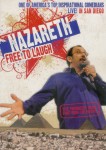 Synopsis
What's the toughest audience you can imagine? Teenagers? U.S. Congressmen? Death Row inmates? The IRS? Nazareth has left them all howling with laughter – but thinking.
Born in Israel and living for part of his life in Kuwait, Nazareth is a comedian whose unique comedy perspective, "Proud to be an American", has delighted millions around the world.
A Nazareth performance is uplifting, inspiring, and exuberantly positive. With unique insights into the cultures of both the Middle East and his adopted home of America, Nazareth offers a breath of fresh air and hope for our troubled times.
Dove Review
Nazareth is from the middle east and has a slap-stick style of comedy. He speaks of 911 and in a joking manner he says he is Mexican in places where there might be a problem with his nationality. He makes jokes about Wal-Mart, Burger King and the airlines. Nazareth enjoys being in the United States, talks about God and tells about the many ways to show how faithful you are. He is a wholesome comedian for the entire family although younger children might not understand some of the humor. We award this DVD the Dove "Family-Approved" Seal for all ages.
Info
Company:
Crown Entertainment