The Terri Schiavo Story
DVD Release:
April 1, 2009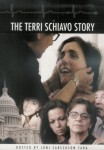 Synopsis
The life and tragic death of Terri Schiavo has raised many significant cultural questions. Her family's struggle garnered the attention of a worldwide media spotlight, the US Congress, the office of the President of the United Stated and millions of Christians around the globe. The final outcome leaves critical ethical matters needing re-examined. "The Terri Schiavo Story," a compelling new documentary film, helps to define the issues and investigate the facts, framing an important consideration of the life and death of Terri Schiavo.
Dove Review
I thought I knew a lot about Terri Schiavo, the woman whose feeding tube was ordered removed by a Florida judge. I was wrong. Joni Eareckson Tada hosts a special documentary with interviews with Terri's family, including her parents and brother and sister, and even the family attorney and the attorney for Terri's husband Mike, the man who wanted the feeding tube removed. I was appalled by some of the things that I learned and if you have any concerns about the sanctity of life and our rights as Americans, you will want to view this DVD. But we warn you that some of the things you see will anger you.
This DVD reveals some events which took place behind the national media attention which some people are unaware of. Since this is a mature topic and shows grieving people, we are recommending this DVD for ages twelve and above. It is a very informative documentary and we highly recommend its viewing and we award it our Dove "Family-Approved" Seal.
Content Description
Drugs:
Just talk of the therapy and rehabilitation used for Terri following her seizure and collapse.
Info
Company:
Adams Group, The
Reviewer:
Edwin L. Carpenter