Moonlight and Mistletoe
Theatrical Release:
November 29, 2008
DVD Release:
October 20, 2009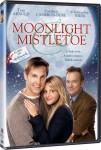 Synopsis
It's always Christmas in Santaville! But now, tiny Chester, Vermont's year-round yuletide attraction is losing its widespread appeal. On the verge of bankruptcy, the resident St. Nick is hoping for a Christmas miracle to keep his dream from being bulldozed into another mini mall. Nick Crosby (Tom Arnold) is the owner of Santaville and head Santa. One day he is smiling with visitors, the next, he is juggling a cascading stack of bills, unable to pay the rent and blissfully thinking a solution will magically appear. When his daughter – and onetime Number One elf, Holly (Candace Cameron Bure), returns home, she is shocked to learn of her father's situation. Holly recruits Peter, Nick's employee and master wood craftsman, to devise a solution to the money woes.
Dove Review
Here's a cute heartwarming holiday story that the family will want to watch every season. Sometimes we are so busy in our lives that we forget the tradition of the holidays that we had when we were kids. In doing so we also forget to pass those traditions on to our children. So eventually the traditions die out and are forgotten and we wonder how we can bring them back. This is a movie about how one place called Santaville brings back the family tradition and the magic of Christmas.
This is a movie about traditions, love and happiness. Dove awards our Dove "Family-Approved" Seal for 12 and over.