The Sandlot
Theatrical Release:
April 7, 1993
DVD Release:
March 15, 1994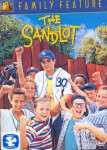 Synopsis
When he moves to a new town, Scotty (Tom Guiry) desperately wants to fit in, and it seems the only way to do so is in joining the sandlot ball team. If only he could play baseball! Fortunately, he befriends the team's best player, who, with great patience, teaches Scotty what he needs to know, thus launching the finest summer of Scotty's young life – so far.
Dove Review
"The Sandlot" was a great baseball film. The acting was a little poor but consists of a group of young kids who I am sure tried really hard. If you can overlook that, along with some crude language, this is a good family film. "Sandlot" follows a group of young boys who play baseball pretty much everyday during the summer. When a new boy moves into the neighborhood and has a hard time making friends, one of the baseball players takes him under his wing and teaches him how to play the game. There are many silly situations that the boys get themselves into, situations that you expect of young boys. The film was entertaining and captured some of the real fears that young children have. I recommend you sit down, kick back and relax as you watch this with your children ages twelve and above. Once again, we encourage parents to check out the content chart below which includes some boys trying out tobacco.
Info
Company:
20th Century Fox Home Ent.