Jakes Corner
DVD Release:
March 2, 2010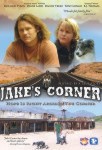 Synopsis
Johnny Dunn, Heismann Trophy winner and NFL star, retires suddenly after the tragic death of his parents. He moves far from the spotlight to an isolated town in the high desert of Arizona. Over the years, Johnny and the eclectic members of the town become like family. Johnny's peaceful life is altered dramatically when he receives the news that his sister and her husband are killed in an automobile accident. He is now forced to care for his young nephew. Having never dealt with his own personal tragedy, he is unable to tell the boy the truth about his parents and enlists the townsfolk to keep the death of the boy's parents a secret. The boy brings an innocence and energy to this town of adults who in turn share their humor and wisdom with him. When Johnny's lie begins to unravel, he must come to grips with the boy's fate and his own.
Dove Review
Spence is a young boy who loses his parents in an accident and the boy's uncle Johnny, who lost his own parents in a tragic plane crash, can't bring himself to tell his nephew the truth. Johnny has lost his relationship with God and struggles with accepting his past tragedy as well as his current loss. He takes the boy in for a time with the intention of eventually letting him know what happened and in so doing, regains his faith and trust in God.
There is a saying which is used several times in the film: "Always a hope, never a mope". The people in the small Arizona town and from the bar are like a family, and they look out for young Spence. Richard Tyson gives a fine performance as Johnny Dunn, the quiet uncle with a big heart. This film has many inspiring moments and encourages the viewer to go on when life has been cruel. Also, BJ Thomas performs in the film and the music is great! Due to the mature themes, we recommend this film for ages twelve and over and we award it our Dove "Faith-Friendly" Seal. This movie tackles a difficult topic with heart. As you see these characters overcome difficult obstacles with God's help-you will believe you can do the same!
Content Description
Drugs:
A few scenes of drinking but these are not overdone and the viewer is encouraged to remember that Jake's Corner is a restaurant/bar.
Info
Producer:
Hollywood Heard and Tim Comstock
Starring:
B.J. Thomas; Richard Tyson; Diane Ladd