Mostly Martha
DVD Release:
April 1, 2009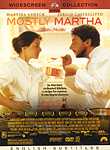 Synopsis
At a posh Hamburg restaurant, single thirtysomething chef Martha lives to create culinary masterpieces. After her sister dies suddenly, Martha becomes the caretaker of her sullen niece Lina. When new chef Mario attempts to win her hardened heart, will Martha be able to incorporate these new ingredients into the recipe of her life? Tasty comedy stars Martina Gedeck, Sergio Castellitto. Subtitles: English. In German with English subtitles.
Dove Review
This movie is one of those rare movies which manages to be dramatic and funny and unfolds a good story. I didn't mind that this German-made film was all in subtitles. Martha Klein is an excellent chef at a popular restaurant. She doesn't mind leaving the kitchen and going out to argue with patrons when they occasionally complain about one of her dishes. In one scene when a man complains that his rare steak is not rare enough, she walks out to the table and places a piece of raw meat on his plate! She takes pride in being "precise" with her recipes and food preparation.
Tragedy strikes when her sister is killed in an automobile accident, leaving her daughter, Martha's niece, to recover in the hospital and facing life without a family. Martha takes her niece in with the initial plan to find her father who is living somewhere in Italy. Martha and her niece Lina face a few bumps in their relationship but they become close, just as her father from Italy shows up. Lina also had come to like Martha's new boyfriend, Mario, who encouraged her to eat by feeding her his great recipes and helping her to get past a "no eating" stage. Martha finds herself attracted to Mario, even though she once viewed him as strictly competition when he was hired to help her out in the kitchen.
As the story winds down the viewer will wonder if young eight-year-old Lina will remain with her father, or find a life back with Martha and possibly with Mario, who has fallen in love with Martha. The humor, perseverance of the characters, and realistic situations will draw the viewer in. It includes scenes of forgiveness and of being willing to change and grow. We gladly award this film our Dove Seal, this movie which is much more than a movie about chefs and great foods. Bon Appetite!
Content Description
Violence:
Girl runs into street and is almost hit by car; a girl slaps an adult in anger and the adult slaps her back.
Sex:
A man spends a night at a single woman's home which she shares with her niece but nothing sexual is shown other than him kissing her earlier in the evening.
Violence:
Girl runs into street and is almost hit by car; a girl slaps an adult in anger and the adult slaps her back.
Drugs:
Smoking and drinking in a few scenes; drinking at restaurant; champagne at celebration; wine consumed with dinner.
Info
Company:
Paramount Home Entertainment
Reviewer:
Edwin L. Carpenter