Lady Jane
Theatrical Release:
February 7, 1986
DVD Release:
February 18, 2003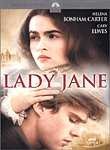 Synopsis
This drama charts a violent slice of English history. For nine politically charged days, Lady Jane Grey (Helena Bonham Carter) rules the country against her will, thanks to a conspiracy concocted by a band bent on keeping the crown away from the Church of Rome. But when Princess Mary, the daughter of King Henry, assumes the throne, Lady Jane and her husband, Guilford Dudley (Cary Elwes), are imprisoned and sentenced to die.
Dove Review
This movie does a good job in portraying the young love between Jane (Helena Bonham Carter) and Guilford (Cary Elwes). They don't care much for each other in the beginning and they are forced into marriage for political reasons but they soon learn they have much in common and they fall in love. They have ideals about helping the poor and making restitution for the mistreatment of the poor. Due in part to a plot by Guilford's father, King Edward dies and leaves the throne to Jane instead of his older sister, Mary. Guilford and Jane set out to help people and to realize their dreams of a reign of compassion. However, certain rebels attack the validity of Jane's reign and soon Mary, Edward's sister, is given the throne. When she insists that Jane and Edward embrace Catholicism, it is obvious the end is near for Jane and her husband.
This movie includes a few scenes of Jane disagreeing with church leaders regarding the popery. In one scene she disagrees about the host being Christ's literal body and says, "God made you and the baker made God?" Although this film has some nice authentic-looking costumes and sets, and solid acting, it crosses over Dove's line of acceptability in the language area and in nudity. We regrettably cannot award our Dove "Family-Approved" Seal to this DVD.
Info
Company:
Paramount Home Entertainment
Starring:
Helena Bonham Carter Cary Elwes John Wood Michael Hordern Jill Bennett Jane Lapotaire Sara Kestelman Patrick Stewart Warren Saire Joss Ackland Ian Hogg Lee Montague Richard Vernon Richard Johnson
Reviewer:
Edwin L. Carpenter