Trekkies
DVD Release:
November 9, 1999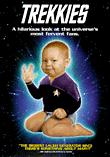 Synopsis
In just under 90 minutes, this dynamic documentary manages to boldly go where a lot of Star Trek fans have gone before: into the heart of Star Trek fandom, where humanity blossoms into its most endearingly odd and bracingly positive manifestations. Are "Trekkies" (or "Trekkers") just a bunch of geeks, loners, and societal outcasts who've found their niche on the fandom convention circuit? This delightful film proves that the stereotypes are simultaneously valid and woefully myopic, because the people introduced here are only as strange as you make them. We could just as easily embrace them as ideal citizens of the United Federation of Planets, living Gene Roddenberry's fictional future on present-day Earth. Who's to say theirs is not a better world than ours?
Superbly directed by Roger Nygard and hosted by Denise Crosby (who played Tasha Yar on Star Trek: The Next Generation), the film offers splendid interview segments with all of the original Star Trek cast, and many from later Trek series, but the real story here lies with the devoted fans who are profiled with an equal balance of fascination, bemusement, and respect; they're a bit weird, to be sure, but these die-hard Trekkies are never unduly patronized. Instead, Crosby and Nygard respond as all Trek insiders have in the past: with astonished affection.
Filmed in 1996-97 at a variety of locations and conventions, Trekkies visits a vast array of Trekkers, Trekkies, and just plain folks who love the series and its pop-cultural progeny. Uplifting, thoughtful, comprehensive, and frequently hilarious, this good-natured film (sanctioned by Paramount without being subservient) is guaranteed to entertain fans and nonfans alike, and a proposed sequel would be wholeheartedly welcomed.
Dove Review
There is no question about it. This DVD is entertaining. As you watch it you will shake your head a few times, laugh out loud a few times, and get a kick out of some of the people in this DVD who just don't seem to define the word "normal". Denise Crosby, former "Star Trek" actress from The Next Generation, interviews people from all walks of life who consider themselves Trekkies, or is the word "Trekkers"? Included too are famous Star Trek alumni William Shatner, Leonard Nimoy, DeForest Kelley, James Doohan and many other actors from the various incarnations of the show.
Some of the fans treat the world of "Star Trek" as a mild indulgence while others pay as much as $1,400 for a latex mask mold used for a Klingon! Another fan buys a glass an ill "Star Trek" actor used to drink from and the fan downs the last of the water in the glass, and happily exclaims, "I have the Q-Virus! I have the Q-Virus!" Fans dress up for the conventions and buy lots of memorabilia. One fan considers herself a "commander" at her job and is even addressed that way! She gains national attention when she wears her "Star Trek" uniform to jury duty for several weeks.
There are touching moments too as one dying fan lived much longer than he was supposed to, attributing it to his love of watching the TV series. Jimmy Doohan inspires one suicidal fan by constantly saying positive things to her and she goes on to earn a degree in…engineering! This DVD will entertain you but since there are a few innuendos and sexual remarks in the documentary, we are recommending it for ages twelve and above. This journey to the fandom side of "Star Trek" will keep the viewer in stitches one moment, and then touch the viewer the next. We gladly award our Dove "Family-Approved" Seal to this DVD.