nikki and babs: DOs and DOUBTs
DVD Release:
June 1, 2009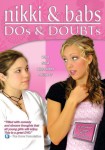 Synopsis
"nikki and babs: DOs and DOUBTs" is a teen comedy that focuses on Nikki, who must spend the summer with her flaky, energetic cousin, Babs.
Episode 1: Judgment Day – Nikki finds out she is to spend the summer with her flaky, energetic cousin, Babs. Nikki battles her own bias and preconceived ideas about Babs and the summer that lies ahead.
Episode 2: Idol Worship – Nikki is concerned with Babs' excessive fanaticism about a popular Christian musician. Babs concocts a scheme to sneak into the musician's dressing room while Nikki tries to warn Babs on the dangers of Idol worship.
Episode 3: A Difficult Thing – Nikki faces trust issues while separated for the summer from her boyfriend. Her trust in Babs is tested when circumstances unfold that may keep Nikki from fulfilling one of her important dreams. Babs has to decide what she's willing to sacrifice in order to regain Nikki's trust.
Episode 4: Y-N-V? – Nikki and Babs struggle with envy as they both interview for the same intern position at a Christian radio station. Their lack of charity and increasing selfishness puts their friendship in danger and the internship at risk.
Episode 5: Nikki realizes Babs may be too vain as they both prepare for a local beauty pageant. When their parish asks them to participate in a church talent show, Nikki and Babs have to decide whether to be selfish or selfless.
Dove Review
Geared toward tweens and teenage girls, this collection of five episodes deals with important topics that this group faces. Babs and Nikki have their differences but together they realize that some of the things they do are not necessarily in the Christian way. Filled with comedy and sincere thoughts that all young girls will enjoy, this is a great DVD for girl groups to watch and have discussions about the topics of each episode. We are pleased to award "nikki and babs: DOs and DOUBTs" the Dove "Family-Approved" Seal for all ages.
Info
Company:
Cloud Ten Pictures
Industry Rating:
Not Rated