Dance Flick
Theatrical Release:
May 22, 2009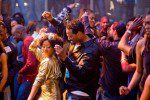 Synopsis
"Dance Flick" is a hilarious new comedy that brings together the talents of two generations of the Wayans family, the explosively funny clan who brought us the "Scary Movie" franchise and "White Chicks," as well as the groundbreaking TV series "In Living Color."
In "Dance Flick," a young street dancer, Thomas Uncles (Damon Wayans, Jr.), from the wrong side of the tracks and a beautiful young woman, Megan White (Shoshana Bush), are brought together by their passion for dancing and put to the test in the mother of all dance battles.
"Dance Flick" sends up the dance movie genre, including such recent hits as "Step Up" and "You Got Served," as well as the classic "Flashdance."
Dove Review
Thomas Uncles (Damon Wayans, Jr.) and Megan White (Shoshana Bush) eye an upcoming dance-off after fate brings the street-wise Uncles and the beautiful White together. Unfortunately, Uncles is part of a three-men group who wind up owing the notorious Sugar Bear $5,000. The plot revolves around whether this wrong side of the tracks Uncles can turn things around and wind up with Megan White. There are some funny slapstick moments in the film, but unfortunately a lot of it tends to be violent.
Although the film shows that people of various backgrounds can fall in love, and that people on the wrong side of the tracks often have the greatest dreams, there is also a lot of sexual innuendos and comments in the film, along with strong language. In addition, a baby winds up drinking alcohol although it is strongly implied and the baby drinking it is not seen. Due to these various content issues, we are unable to award our Dove "Family-Approved" Seal to this movie.
Info
Writer:
Keenen Ivory Wayans and Shawn Wayans and Marlon Wayans
Reviewer:
Edwin L. Carpenter