Out of the Wilderness
DVD Release:
April 27, 2004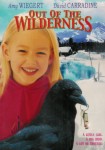 Synopsis
Meet the screen's newest animal star!
Saving a wild, baby raven in the Alaskan wilderness almost costs Melissa her life and her father's sanity when Black Feather's silly antics and passion for gathering shiny objects are enough to drive the whole town crazy. While Melissa slowly recovers in the hospital, Black Feather is captured and sent to the city, where the bird is declared a Public Nuisance. Both bird and family are put on trial and now an animal rights legal activist must fight to defend a little girl's amazing love for an extraordinary pet. Get ready to discover a rare family treasure; a heart-warming, fun-filled adventure set in some of the most spectacular scenery in Alaska.
Dove Review
Here is a comical story about the adventures of a raven in Alaska. This movie will make you laugh as you see the mischief that Black Feather causes everyone around him as he collects those shiny objects he loves. With wonderful aerial Alaskan scenery as the raven soars through the sky on his travels, and the story of his adopted family, this adventure will be enjoyed by all.
This is a wholesome family movie. Unfortunately, because of some of the content, it is approved for ages 12 and over but can be viewed by younger children with parents present. Dove awards the Dove "Family-Approved" 12+ Seal to "Out of the Wilderness". I do have to make one note: in one scene they mention that they are going to take an x-ray to see if there is nerve damage and this is not the way they find that information out.
Info
Writer:
Gabe Essoe (screenplay) Steve Kroschel (screenplay
Industry Rating:
Not Rated