My Life in Ruins
Theatrical Release:
June 5, 2009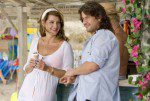 Synopsis
From Nia Vardalos, writer and star of "My Big Fat Greek Wedding," comes the hilarious comedy "My Life in Ruins." Georgia (Nia Vardalos) has lost her kefi (Greek for "mojo"). Discouraged by her lack of direction in life, she works as a travel guide, leading a rag-tag group of tourists as she tries to show them the beauty of her native Greece. While opening their eyes to an exotic foreign land, she too begins to see things in new ways the process.
Dove Review
Nia Vardalos plays a tour guide in Greece named Georgia. She is a by-the-book tour guide and quotes a lot of boring facts while her competitor is a man who buys his tour group donuts and jokes with them and tries to get them to have fun. When a widower named Irv (Richard Dreyfuss) begins to connect with Georgia as a friend, he helps her to see the possibilities of her opening up to people and letting down her hair. When she does, she begins to enjoy being a tour guide and finds romance to boot.
This film has some good moments as it focuses on people's relationships. It has some funny moments too as it reproduces human behavior on the screen. When Georgia tells her tour group they can bring cameras and umbrellas and whatever they like on one stop, pretty soon someone asks if they can bring cameras and someone else asks if they can bring umbrellas! Who hasn't had something like that happen?
Unfortunately, the film crosses our line of acceptability in the sex category, and we therefore regrettably cannot award our Dove "Family-Approved" Seal to this movie.
Info
Company:
Fox Searchlight Pictures
Reviewer:
Edwin L. Carpenter