Drag Me to Hell
Theatrical Release:
May 29, 2009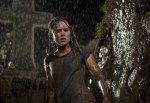 Synopsis
"Drag Me to Hell" tells the story of Christine Brown (Alison Lohman), an ambitious L.A. loan officer with a charming boyfriend, Professor Clay Dalton (Justin Long). Life is good until the mysterious Mrs. Ganush (Lorna Raver) enters their lives…and everything begins to unravel.
When her loan is denied and she loses her house, the shamed Mrs. Ganush places the powerful curse of the Lamia on Christine, transforming her life into a living hell. Christine is tortured and desperate to have her old life back, so she sets on a quest to reverse the spell. But as evil forces close in and threaten to drag her deep into hell, Christine must face the unthinkable: how far will she go to break free of the curse?
Dove Review
Okay, I figure most people are going to recognize by the genre and title of this film that it is not a family movie. There are a few scenes in the film in which normal things happen like a young woman waiting to hear about a promotion she might get at work; the young woman giving a gift to her boyfriend, and this same young woman meeting her boyfriend's parents. However, there are a lot of scenes which are not normal, such as a corpse spitting out fluid into a woman's mouth; an old woman hiding in the back of a character's car and trying to kill her; a young woman digging up a grave by herself late at night in the cemetery, a séance being held, blood splattering a woman's supervisor as it pours out of her nose and so forth. This movie is heavy with the occult as a woman seeks both a psychic and a medium to help her once she is placed under a curse. It also features the sacrifice of a cat to appease a certain spirit.
We can only hope that the director, Sam Raimi, will get busy soon on "Spider-man 4". We are unable to award our Dove "Family-Approved" Seal to this film.
Info
Company:
Universal Pictures
Writer:
Sam Raimi and Ivan Raimi
Reviewer:
Edwin L. Carpenter