Were No Angels (1989)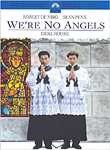 Synopsis
Bogus priests Robert De Niro and Sean Penn are really escaped convicts who haven't got a prayer of sidestepping a police blockade and making it across the U.S.-Canadian border — unless they manage to successfully pass themselves off as clergymen. Demi Moore joins forces with these wayward men of the cloth in a hilarious comedy scripted by David Mamet and directed by Neil Jordan.
Dove Review
This film features two big names in Robert DeNiro and Sean Penn. This comedy focuses on their release from Black Ridge State Penitentiary in 1935 and the situations they get into afterward. They wind up impersonating priests, Father Brown and Father Riley, and although the impersonation of priests isn't a good thing, they certainly have some comedic moments as a result.
Unfortunately, the film is peppered with strong language and some bloody violence, and we therefore are unable to award our Dove "Family-Approved" Seal to the movie.
Info
Company:
Paramount Home Entertainment
Starring:
Robert De Niro Sean Penn Demi Moore Hoyt Axton Bruno Kirby Ray McAnally James Russo Wallace Shawn John C. Reilly Jay Brazeau Ken Buhay Elizabeth Lawrence Bill Murdoch
Reviewer:
Edwin L. Carpenter