The Happy Cricket
DVD Release:
October 10, 2006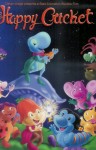 Synopsis
This is the story of Christopher, a cricket that lived happily singing and playing for his friends in the forest until the arrival of Wartlord, a terrible lizard that prohibits music and kidnaps Linda, the Night Star.You will be amused by the fantasies, beauty and adventures of The Happy Cricket, with its cheerful music and adorable characters, it's a film that celebrates the values of friendship, freedom and defense of nature. Watch the film and cheer for Christopher to defeat the powerful Wartlord and rescue the Night Star. It is a remarkable story that will stay forever in the memory of children.
Dove Review
Enjoy this colorful fantasy story about one little cricket and his friends who have their village taken over by a Wartlord who destroys the trees, takes away the beauty in the little bugs world, and thinks that the Night Star is a diamond that will give him power. Most of all he hates the wonderful music that the Happy Cricket makes along with the songs that the group sing.
Happy Cricket and his friends band together to fight back and protect their world from this evil. In doing so their friend, the Night Star, falls from the sky and they have to find her before the Wartlord's monstrous toads do. With the help of a Magical Toucan they save the forest and overcome the nasty Wartlord and his evil followers to restore nature back to its beauty. Dove must warn that there are some parts that that may be scary for younger viewers . But it is a story of protecting the environment, friendship, kindness and peace. Dove awards " The Happy Cricket" the "Family Approved" Seal.