Land of the Lost
Theatrical Release:
June 5, 2009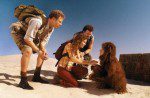 Synopsis
Will Ferrell stars as has-been scientist Dr. Rick Marshall, sucked into one and spat back through time. Way back. Now, Marshall has no weapons, few skills and questionable smarts to survive in an alternate universe full of marauding dinosaurs and fantastic creatures from beyond our world-a place of spectacular sights and super-scaled comedy known as the "Land of the Lost."
Sucked alongside him for the adventure are crack-smart research assistant Holly (Anna Friel) and a redneck survivalist (Danny McBride) named Will. Chased by T. rex and stalked by painfully slow reptiles known as Sleestaks, Marshall, Will and Holly must rely on their only ally-a primate called Chaka (Jorma Taccone)-to navigate out of the hybrid dimension. Escape from this routine expedition gone awry and they're heroes. Get stuck, and they'll be permanent refugees in the "Land of the Lost".
Based on the classic television series created by Sid and Marty Krofft, "Land of the Lost" is directed by Brad Silberling and produced by Jimmy Miller and Sid and Marty Krofft.
Dove Review
My, how the times have changed over the years. The Krofft brothers, the same brothers who produced the beloved TV series "Land of the Lost" in the seventies, and then brought it back in a recycled form, have now made a major motion picture based on the show. Gone is the innocence of the original series and series like it, for example "H.R. Pufnstuf", "The Bugaloos", and "Lidsville", just to name a few. Now we have a film which has so many expletives and strong language that I had a difficult time keeping track of the count. The sexual innuendos abound and a couple of characters place their hand on a woman's breast and leave it there until she makes them remove it.
I am not sure why this approach was taken, other than the producers thought this is what today's audience would want. It does have a few genuinely funny moments, but I guess the nostalgia factor got to me and I just couldn't understand why a family TV series morphed into this particular movie. Even Rick Marshall's children, Will and Holly, are not to be found in this film but instead are two colleagues of Dr. Marshall, played by Will Ferrell. The special effects are great in spots in the movie, but I am afraid that many people who see this film for nostalgia's sake will not enjoy the changes which have taken place. As far as the family, this film is very unfriendly toward the family, particularly children, and we are unable to award this movie our Dove "Family-Approved" Seal. Lovers of the old show will feel "lost" if they see this picture.
Info
Company:
Universal Pictures
Writer:
Chris Henchy and Dennis McNicholas and Sid and Marty Krofft
Reviewer:
Edwin L. Carpenter