Montana Upstream – Manuscript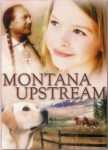 Synopsis
In pre-production:12 Year-old Katy lives in LA with her father Frank, an environmental architect, and her estranged mother Anne, a celebrate workaholic author. While Frank and Anne's marriage is unraveling Katy is discovering the connection and friendship of a first love in Seth, a boy from school. Frank decides to house-sit in Montana over the summer. Katy is thrilled, especially because part of the deal is taking care of a dog named Buster. Anne is furious at being ambushed, but comes to agree that spending time with Frank and Katy will help bring their family back together.
Dove Review
This story is literate and well written. The author obviously has talent. The situations in the plot are relevant and realistic as a man and his wife struggle in their marriage, and their teen daughter is caught in the middle of it. Frank wants to move from LA to Montana along with his wife Anne and eleven year-old daughter Katy. Katy falls in love with Montana and likes the idea. But Anne, who was previously estranged from Frank, wants to remain in LA. Into the mix a sudden death occurs which affects Katy dramatically as well as Anne, as it conjures up old memories of a loss she suffered as a child.
The story is pretty wholesome and the characters are realistic. It should be noted that there is a discussion about religious beliefs. One character, a Native American man, says everyone believes differently and one must look inside one's self to find the answer. It does not mention preparing one's self biblically for the afterlife. On another note, it does include a brief sermon by a pastor at a funeral who mentions that God's love is revealed in Jesus Christ. Possible viewers of this story, if it is made into a film, might be concerned about some of the comments such as the dead live on in the butterfly, the wind, sky, and so forth. All of this content is listed below under our "other" category.
However, there is a nice resolution within the family conflict and love and forgiveness is displayed in this story. The topic of death might stir up some interesting conversations about the afterlife and being prepared for it. We are pleased to award our Dove "Family-Approved" Seal to this story. It inspires families to fight to stay intact, and that is something which is easy for us to stand behind.
Info
Company:
Revolve Entertainment
Reviewer:
Edwin L. Carpenter