My Sisters Keeper
Theatrical Release:
June 26, 2009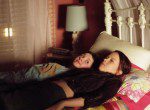 Synopsis
Sara and Brian live an idyllic life with their young son and daughter. But their family is rocked by sudden, heartbreaking news that forces them to make a difficult and unorthodox choice in order to save their baby girl's life. The parents' desperate decision raises both ethical and moral questions and rips away at the foundation of their relationship. Their actions ultimately set off a court case that threatens to tear the family apart, while revealing surprising truths that challenge everyone's perceptions of love and loyalty and give new meaning to the definition of healing.
Dove Review
First off, this is a movie that deals very much with death and its impact and subsequent loss. There were several people sniffing and crying around me as the movie ended. There is no question that the film is well acted and is very much a story which could actually happen. The viewer begins wondering why Kate's sister (Abigail Breslin) sues her parents so she can make her own choices about medically helping her sister with bodily donations, including the latest need-a kidney. It is all revealed by film's end.
The movie features memorable scenes, including the mother, played by Cameron Diaz, shaving her head so her daughter Katy (Sofia Vassilieva) won't feel so out of place by going out in public with her own bald head, which is a result of chemotherapy. In another scene a lady judge (Joan Cusack) fights back tears when she is asked about her daughter who was killed in an accident by a drunken driver. And a scene in which young Katy spends a day at the beach with her family is touching as well.
Regrettably, there is a sexual relationship between two underage teens in addition to strong language, which prevents us from awarding our Dove "Family-Approved" Seal to the movie as a family-friendly film.
Info
Writer:
Jeremy Leven and Nick Cassavetes
Reviewer:
Edwin L. Carpenter