U Bejani – Special Edition
DVD Release:
November 10, 2009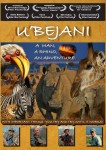 Synopsis
When retired cop, Harry Curtin (Wayne Crawford-"Jake Speed"), arrives in Africa, he thinks he's been hired to bodyguard someone big and important. But city slicker Harry soon discovers his new client is even bigger than he thought. Instead of a political leader or national celebrity, his client turns out to be a 2000 pound black rhinoceros that needs protection from dangerous poachers. Harry's first reaction is to quit and go home, but something about the hauntingly magical African bush and its wonderful inhabitants beckons him to stay and do the right thing. Encouraged by Father Bob, a local missionary, (William Katt-"Greatest American Hero") and a determined conservationist, (former Miss South Africa-Diana Tilden Davis), to use his detective skills, Harry teams up with a local wise man and a reserve full of majestic animals to catch the poachers while creating a little magic the locals will be talking about for some time.
U'bejani is a whimsical adventure that promotes belief in oneself, and the importance of making the world a better and safer place for both man and animals.
Dove Review
This is an hilarious adventure with Harry, a man who travels to Africa to protect someone or so he thinks. After his arrival he discovers that his job is to protect the black rhinos and find out who murdered one of them. His investigation leads him into an amazing land and he learns about the animals and natives there.
Harry's guide named "Two Days", a native of the land, introduces him to the animals and to his brother, a native witch doctor. Then Harry himself discovers something incredible, that he can talk to the animals and that they can help him find the answers to the old question "Who did it?" Along with the comedic story, there are some interesting facts in this DVD about the great animals of Africa. This movie is entertaining while educational for the entire family. "U Bejani" is awarded our Dove "Family-Approved" Seal.
Content Description
Violence:
Discussions regarding illegal hunting of rhino, A carcass of a rhino is found but not graphic.
Violence:
Discussions regarding illegal hunting of rhino, A carcass of a rhino is found but not graphic.
Info
Company:
Salem Creek Productions