I Love You Beth Cooper
Theatrical Release:
July 10, 2009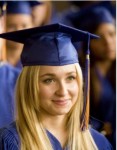 Synopsis
When a geeky high-school valedictorian (Paul Rust) throws caution to the wind by expressing his love for a popular cheerleader (Hayden Panettiere) during his graduation speech, life finally starts to get interesting in this coming-of-age comedy adapted from the book by journalist/author/screenwriter Larry Doyle.
Dove Review
I seldom become a bit angry while reviewing a film, but this movie shows a lot of irresponsible behavior and all I can say is shame on director Chris Columbus and writer Larry Doyle. A teen girl named Beth Cooper (Hayden Panettiere) drives recklessly throughout the film and at one point drives her fellow teen friends around with her lights turned off at night. She also keeps driving late at night while stopping at several parties. One poor confused character doesn't know if he's gay, straight or bi-sexual. After he sleeps with two girls at the same time and seems to enjoy it, he decides he really is gay. Go figure. This entire movie lacks structure and moral good sense and the only thing good I can say about it is the character of Dennis isn't afraid to speak the truth as he sees it. But since the entire movie is basically about hitting the parties, drinking, a comment or two on drugs, talk of sex and more talk of sex, along with a few guys wanting to beat up other guys, we cannot come close to awarding our Dove "Family-Approved" Seal to it.
Info
Company:
20th Century Fox
Reviewer:
Edwin L. Carpenter