Prairie Giant: The Pastor Tommy Douglas Story: Edited
DVD Release:
September 29, 2009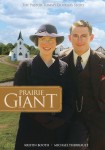 Synopsis
For more than 50 years, his unwavering commitment to social justice, his brilliant political acumen and pugnacious charm earned Tommy Douglas both the love and respect of millions of Canadians. Many of the things we now take for granted-government insurance, the 8-hour work day, government funding for the arts and, most importantly, universal health care – were first introduced in Canada by Tommy Douglas. This follows his path from 1930 to 1961.
Dove Review
This is a very interesting story about the early political landscape of Canada. Tommy Douglas started as a Baptist minister who had a great passion for helping others that were down and out. He was forced to give up his pulpit when he ran for a political position and the rest as they say is history.
The story shows his courage and determination to help the people he represented by instituting many social programs that are now popular in Canada. The film covers his fifty year run in the political arena and clearly shows his ambition to make changes. This is a very enlightening history lesson regarding the Northern Country of Canada and is a very compelling saga. This is an edited version and we award it the Dove "Family-Edited" Seal for ages of 12+.
Info
Company:
Bridgestone Multimedia Group
Industry Rating:
Not Rated
Starring:
Michael Therriault; Kristein Booth; Nicholas Campbell; Brent Carver; Aidan Devine; Paul Gross; Hannon Jardine; Andy Jones; Brian Markinson; Don McKellar; Robert Moloney; Jane Redlyon; RH Thomson; Ian Tracey; Matthew Walker