Waiting to Rise
DVD Release:
August 1, 2009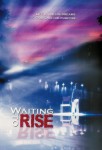 Synopsis
At the age of five, Rob Roozeboom was diagnosed with an incurable disease, Muscular Dystrophy. His body would continue to deteriorate, but he refused to let his dreams do the same. See how he dealt with the disease growing up and the events which turned the worst of circumstances into a burning desire to change his life and the world around him.
You'll laugh and cry with Rob as you meet his family and his team, and witness the vision God has planted in his heart to help those who are hurting. But most of all, you'll be inspired to overcome any obstacle that life throws at you, and to understand that hope can change any situation.
Dove Review
Travel the road Rob Roozeboom takes as he discusses his life with Muscular Dystrophy. His life was forever changed, including his dreams of the future, becoming a farmer and the desire to become an athlete. Listen and watch as Rob, his family and friends tell of the physical and emotional ups and downs of this disease.
As in any person's life afflicted with a disease, Rob asked " Why?" and was shown a path to make a difference worldwide. He is inspirational, as displayed in this documentary about his courage, faith and hope along with the frustration, challenges and blessings. We are proud to award "Waiting to Rise" our Dove "Family-Approved" Seal.
Info
Company:
Rise Ministries.Com