Click Clack Jack: A Rail Legend
Theatrical Release:
August 26, 2009
DVD Release:
September 1, 2009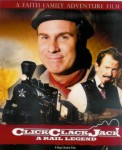 Synopsis
The story begins with Click Clack Jack finding a stranger lying on the tracks just outside of town. Jack and his Aunt Jo take care of the stranger and nurse him back to health, only to have him mysteriously leave without a "goodbye". Tragic news comes as they receive word that Baron Snodgrass has decided to destroy the town. The Baron believes that the gold he's been searching for all these years is located beneath Potter's Gap.
Jack makes a deal with the Baron giving Jack one week to come up with the necessary money to purchase the town. With much work and personal sacrifice, the good folks of Potter's Gap raise adequate funds to purchase the town and be saved. But the money is stolen and the town accuses the mysterious stranger of the crime.
When Jack visits the stranger in jail, a secret is revealed that requires Jack to put his faith into action.
Dove Review
There is a story told to school children who are visiting the museum and it's told by Ronnie, the man dressed in an engineer outfit. He tells of Click Clack Jack and the peril Jack's town is in after Jack finds a hobo on the tracks. This is an encouraging story that teaches them about faith, forgiveness and fitting in.
This cute movie will entertain the entire family while teaching valuable lessons such as how to treat others that are different, the importance of giving up something to help yourself or those around you, and with faith in the good Lord anything is impossible. These are a few of the lessons portrayed in this story. Dove awards "Click Clack Jack" the Dove "Family-Approved" Seal for all ages.
Info
Company:
Indelible Creative Group