Island of Grace
DVD Release:
August 25, 2009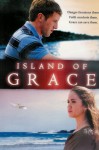 Synopsis
Megan has lost her way. Although she has been saved, the praise of the world now comes before God. Her co-worker Chris doesn't understand how Megan can deny the faith, especially when she was instrumental in bringing him to Jesus.
However, when Megan and Chris go on a business trip with their boss, Mark, their lives are forever changed in a near-fatal plane crash. Stranded on an island in a far corner of the world, Megan is forced to re-examine her life, beginning a journey not just of survival, but also of remembering what it means to be saved.
Dove Review
Sometimes we can't see what people are really like or make fun of those who are different. We make changes to our lives so we can fit in. Megan is one of those people, ignoring the faith and beliefs she once practiced and now she is one of the club-hopping office girls, too busy for church or even reading her Bible. Mark is a self centered business man who thinks he is too busy for religion. Chris is the hard working "tech guy" who recently became a Christian and likes Megan. Now the three are in an unlikely place that will reveal a great deal about each one of their inner selves.
"Island of Grace" is a compelling story about true survival. Today some Christians get swept into the world around them and forget the true meaning of their life. This is a story about how our Christian life does not have to change so we can "fit in". But rather that it is important to live our lives to the fullest in Him and not worry about the way others in the world around us think. This movie is awarded the Dove "Family-Approved" Seal for all ages.
Info
Company:
WisenQuest Production