All Roads Lead Home: Edited
Theatrical Release:
September 25, 2008
DVD Release:
January 13, 2009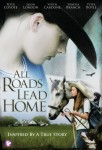 Synopsis
Limited Theatrical Release – 12 year old Belle (Vivien Cardone) loses her mother in an automobile accident. Her father Cody (Jason London) struggles with the loss of his wife and trying to raise a young girl who believes her father is partly responsible for her mother's death. Hock (Peter Coyote), Belle's grandfather, since the accident has trouble communicating with Belle, because she reminds him too much of his daughter. Her rebellious behavior forces Cody to send Belle to her grandfather's farm. It is Atticus the dog who will change Belle's life and the life of those who love her.
Dove Review
This film deals with a tragedy but it is illuminated by the young actress Vivien Cardone, who brings gumption to her role of Belle. Belle lost her mother in an automobile accident and it has affected everyone in her life, including her father and grandfather. Yet Belle's lively spirit and ability to adapt begins to slowly cause the others to reflect on their lives. She is a bit rebellious but she matures as the film moves along. She eventually helps her grandfather, who rejected her because she reminds him of his dead daughter, to make some kind of peace with the past. A budding romance between Belle's father and the local veterinarian could bring some healing.This is a dramatic piece but still, it manages some humor. A parrot in the story always says "Hello" when someone says good-bye to it, and "Good-bye" when someone says "Hello."
The film has mature themes including animal euthanasia. It is a compelling story and we gladly award it our Dove "Family-Approved" Seal.
Info
Company:
Waldo West Productions
Producer:
Dennis Fallon and Charles W. Nelson
Reviewer:
Edwin L. Carpenter