Egon and Donci
Theatrical Release:
November 29, 2007
DVD Release:
November 17, 2009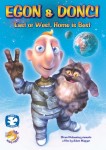 Synopsis
The heroes of the film live on an idyllic, little planet in a neighboring solar system. Egon is an ever so slightly eccentric, amateur "rocket scientist' assisted in his endeavors by a clumsy, and decidedly overfed, catlike creature called Donci. Their simple existence becomes suddenly complicated when an unidentified object flies into their lives (Voyager-3) with a message from earth. Egon decides that there is only one thing to do and that is to establish contact with this distant civilization. The fundamental and unavailable philosophy of this animated adventure is a singularly simple one: the complete and total aggression in any form whatsoever. The lovable characters at the center of events knowingly harm another living being. Although they often get battered and bruised, it is only as result of their own hapless antics.
Dove Review
This is a pop culture film that has two endearing characters, namely Egon, a goofy scientist, and his feline like side-kick Donci, who live on another planet in another galaxy. After a space ship from Earth crashes on their planet they get a glimpse of the strange place it came from by the pictures on a disc that Donci retrieved. Now Egon is eager to finish his trip and travel to this far away land. They do not talk much on their flight but get into some problems in space.
These are kooky companions that find themselves in funny situations and even time travel. Along the way there are some political statements regarding the war, planting trees, terrorism and more. I believe that this will have a following such as some of the other more sophisticated animated movies. Dove awards the Dove "Family Approved" Seal for all ages to this movie.
Info
Company:
Strand Releasing
Industry Rating:
Not Rated