The Heavens Declare
DVD Release:
August 1, 2009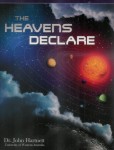 Synopsis
What do we find when we look beyond Earth's atmosphere? Is there evidence that other planets in our solar system contain life?
In "The Heavens Declare", Dr. John Hartnett, a physics professor at the University of Western Australia and co-author of the book "Dismantling the Big Bang", explores how the other planets in our solar system are beautifully desolate compared to the abundance of life on Earth. This educational documentary also discusses different motives for exploration and the data that helps to prove that the trail of life in our solar system begins and ends on Earth.
Dove Review
With scriptures boldly flashing on the screen, this documentary reveals the wonderful creations of the universe, and the fact that the heavens declare the glory of God. From John chapter one the film begins by reminding the viewer that all things were created by God, with the Son of God being involved. "All things were made by him" it declares.
Dr. John Hartnett hosts this documentary which takes a look at the creatures of earth such as the fox, bear, ram, and so forth but mainly focuses on the solar system. The film drives home the point that the planet Earth was meant to be inhabited, while the same is not true regarding other planets including the moon, Mars, Jupiter, Saturn, etc. The moon serves the function of tilting the earth on its axis, so that we enjoy the four seasons of life. God created the earth so that people could breathe its oxygen, drink from its water, and dwell here. This is a fantastic DVD with wonderful graphics and illustrations and we are pleased to award it our Dove Seal.