The Biblical Dinner
DVD Release:
August 1, 2009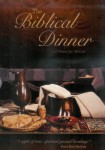 Synopsis
Experience a time before electricity, upright seating or silverware and a place illuminated only by oil lamps. Be transported to a place warmed by the laughter of friends who are prepared to give their lives for one another and recline at a table where each bite or sip holds ancient relevance and holy significance.
Join Pastor Jay McCarl, as he hosts an intimate, thought-provoking meal with customs dating back to the time of Abraham and relevance stretching far into eternity.
Dove Review
You will know much more about eating a Jewish meal during the time of Christ, and even as far back as the time of Moses after viewing this fantastic DVD. Your host is Pastor Jay McCarl and he involves his congregation in eating Jewish style. He is dressed in Hebrew clothing and with a vast knowledge of Jewish and biblical history and tradition he takes you through an evening feast in a Jewish home.
He covers everything from the invitation to the greeting of the host, the type of food and how it would be served, the sitting position of the guests and host, and so forth. In one fascinating scene he mentions his appreciation of the Last Supper painting by Da Vinci but how that there are errors in the painting, including fish being served instead of the passover lamb, bread which is not unleavened, their positions in sitting to eat and so on. The viewer will learn from and enjoy this teacher all at the same time. We happily award our Dove Seal to this DVD. Bon Appetit!
Info
Company:
Bridgestone Multimedia Group
Director:
Greg and Jennifer Bueghly
Industry Rating:
Not Rated
Reviewer:
Edwin L. Carpenter