The Board
Theatrical Release:
August 4, 2009
DVD Release:
August 4, 2009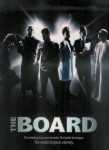 Synopsis
This is a dramatic film that explores the inside story of a human soul, represented by a board of directors comprised of six members. One by one the power of the soul, including Mind, Memory, Emotion, Heart, Will, and Conscience, discuss and vote on seemingly mundane events, until a co-worker poses a dilemma with eternal consequences. Now the stakes couldn't be higher. Facing a powerful indictment, the board's hypocritical self-defense is exposed, as it wrestles with the ultimate decision every person must make. This short-film fantasy will reveal the reality of how God speaks to your own soul, as you consider your eternal destiny.
Dove Review
This is a thought provoking film, inspired by a sermon by a pastor named Colin Smith. The "Board" consists of Mr. Mind and Presence, and Emotion, Memory, Heart, Will and Conscience. A man named Ray has witnessed to Mr. Mind about Jesus Christ and the rest of the group has to decide whether or not to agree with Ray that Jesus is indeed the savior of the world. This DVD focuses on the board's discussions and it is cleverly written and produced, with quality sets and solid acting. Emotion has found a woman named Rachel attractive and the rest of the board has to remind him of the dangers of falling into a sensual trap.
In one interesting scene the group discusses whether or not one lie makes a person guilty of being a liar. When one member asks, "How many murders do you have to commit to be a murderer?" the entire room falls silent. They begin to realize that they have broken not one but several of the Ten Commandments, including taking the Lord's name in vain. As Memory reveals their past failures and sins the group begins to realize their need of a savior.
This is a unique but well-made DVD with a compelling story. "The Board" will make viewers think and how many films these days do that? We gladly award this movie our Dove Seal and award it five Doves, our highest rating.
Info
Company:
Bridgestone Multimedia Group
Industry Rating:
Not Rated
Reviewer:
Edwin L. Carpenter