Sir Olivers Song: A Musical Lesson about the 10 Commandments (CD)
DVD Release:
July 1, 2009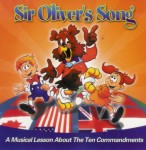 Synopsis
Learning the meaning of the Old Testament's Ten Commandments is easy with the "Sir Oliver's Song" music CD from Bridgestone Multimedia Group. Children ages 2-10 will love joining Agapeland characters Stevie™ and Nancy™, as they receive a special musical lesson about God's Word from Sir Oliver the owl. This sing along CD features 16 songs that relate to the Bible's commandments, including Bible songs like "Only Elohim," "Je Tand#8242;aime King of Kings," "Just One God Is He," "Love His Name," "Honor Your Parents," "Always Be True," "Tell the Truth," "Be Thankful," "Sir Oliver's Song," and more! Sure to be a family favorite that children will love to listen to again and again, "Sir Oliver's Song" teaches little hearts how to live for God, as they praise and worship Him through Christian, fun-filled songs.
Dove Review
Children love music and as they they listen they will hear songs that deal with the 10 Commandments. This CD contains 18 songs that children will enjoy as it teaches the commandments like honoring their parents, loving God, and not to lie or steal to name a few. Your children will learn the cute songs along with the valuable commandments that God has given us to follow. Dove Awards the Dove "Family-Approved" Seal for all ages to this great CD.
Info
Company:
Bridgestone Multimedia Group
Industry Rating:
Not Rated