The Little Tree Story of (CD)
DVD Release:
July 1, 2009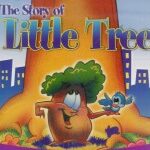 Synopsis
Inspire children ages 2-7 with the message of Christ's birth, death, and resurrection through an endearing Easter fable, "The Story of Little Tree." From the moment he first sprouts, Little Tree knows there's a special plan for his life. However, after being struck by lightning during a storm, Little Tree feels his life is worthless, when he is left with a huge, gapping hole. Soon, however, a special traveler with kind eyes stops under Little Tree's branches, filling him with a new purpose and changing his life forever. Packed full of delightful, Christian sing along songs like "A Small Beginning," "We're His Creation," "The Man Called Jesus," and "He Lives," this captivating, fun-filled music CD from Bridgestone Multimedia Group is sure to become a family favorite.
Dove Review
Here is a wonderful CD filled with cute sing-a-long songs that your children will enjoy. Through amazing music and story of one little tree, everyone will enjoy these lovable Christian tunes and the tale they tell. Like the songs and stories that were taught to me as a child in Sunday school, these will be fun for your children. Dove awards this CD the Dove "Family-Approved" Seal for all ages.