Bullfrogs and Butterflies (4 CD Set)
DVD Release:
August 1, 2009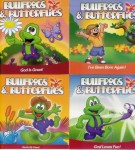 Synopsis
The Bullfrogs and Butterflies: 4 CD Set will have both adults and children tapping their toes and clapping their hands to the wonderful music of this four Christian CD set of children's classics sung by children. Designed for children ages 2-10, these highly entertaining and cleverly written recordings come from the talented producers of the best-selling Music Machine®. Children will love to sing along to the fun songs, while learning wholesome messages that are sure to last a lifetime.
This four CD set includes the CDs "God Is Great," "God Is My Friend," "God Loves Fun," and "I've Been Born Again." Offering over two hours of cheerful songs children will love to sing along to, the delightful Bullfrogs and Butterflies: 4 CD Set will entertain children and teach them about God at the same time.
Dove Review
"Bullfrogs and Butterflies" is a fantastic collection of wonderful songs for children that they will love to sing. Each CD in the collection has an important message about God in our lives. With a variety of music that has a message for everyone about God's love and greatness, it focuses on him as a friend and as our Savior. Like the lovable songs I was taught as a child in Sunday school and Bible school, your children will love and grow from this wonderful collection of Christian songs targeted for them.
We award this 4 CD set the Dove "Family-Approved" Seal for all ages.