The American Heritage Series – Vol 1 -10 (Box Set)
DVD Release:
July 1, 2009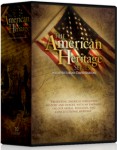 Synopsis
Discover the forgotten and astonishing story of our nation's foundation in the American Heritage Series! For centuries, Americans were taught a truthful view of history that recognized the godly heroes and moral foundation upon which America was founded. However, in recent years, a new version of history has re-written the moral and spiritual fiber of our nation, leaving the truth of our past eliminated, ignored, and forgotten.
From the separation of church and state to the civil rights movement, from the heroism of our founding fathers to the building of our nation's monuments, this Christian documentary series from Bridgestone Multimedia Group inspires Americans to reclaim the godly history of our nation. Containing all 26 episodes on ten DVDs, the American Heritage Series follows historian David Barton, as he experiences the untold, true story of our nation's history. America, this is your heritage!
Dove Review
This great 10 DVD box set will amaze viewers as they watch this astounding collection. Discussions are led by David Barton about the change to America's original history during these modern times. Listen about how the faith of our founding fathers helped to shape this country and no longer do we see the correct definition that they laid out in the Declaration as it was originally written.
Learn of the faith and beliefs of these great men, of the influences the Bible had in creating our Constitution and the true definition of the term "Separation of Church and State". Look into this country's Christian heritage and foundation that was created for our benefit and how it has changed to suit others. This fantastic set will open a wide variety of topics for discussion in the Christian community and history classes alike.
We proudly award this collection the Dove for all ages.
Info
Company:
Bridgestone Multimedia Group
Industry Rating:
Not Rated