Inglourious Basterds
Theatrical Release:
August 21, 2009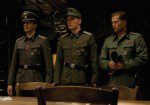 Synopsis
Inglourious Basterds begins in German-occupied France, where Shosanna Dreyfus (Mélanie Laurent) witnesses the execution of her family at the hand of Nazi Colonel Hans Landa (Christoph Waltz). Shosanna narrowly escapes and flees to Paris, where she forges a new identity as the owner and operator of a cinema.
Elsewhere in Europe, Lieutenant Aldo Raine (Brad Pitt) organizes a group of Jewish soldiers to engage in targeted acts of retribution. Known to their enemy as "The Basterds," Raine's squad joins German actress and undercover agent Bridget Von Hammersmark (Diane Kruger) on a mission to take down the leaders of The Third Reich. Fates converge under a cinema marquee, where Shosanna is poised to carry out a revenge plan of her own…
Dove Review
Death and revenge. These are two words which descriptively explain at least part of the plot of this movie. The film opens in France, a German-occupied France, and Shosanna Dreyfus (Melanie Laurent) sees the graphic murder of her family by Colonel Hans Landa (Christopher Waltz), a Nazi. She escapes with her own life intact but can't get the images out of her mind.
Brad Pitt plays Lt. Aldo Raine and he organizes a group of soldiers to fight the enemy and the enemy recognizes them as the "Basterds"; hence the name of the group and the film. As the various Allied Forces fight, Shosanna plots her own course of revenge.
This film features some outstanding and realistic acting from Brad Pitt and also Melanie Laurent as well as others. The story is grounded in reality and focuses on the graphic nature of war and the consequences, namely suffering and death. Sadly, it is too strong in the violence arena and in the language content, as well as the drugs and sex category, for us to be able to award this movie our Dove "Family-Approved" Seal. This is not a family-friendly picture.
Info
Company:
The Weinstein Company LLC
Reviewer:
Edwin L. Carpenter