The Lets Go Guang : Episode 1: Meet Guang Dragon (Box set)
DVD Release:
August 1, 2009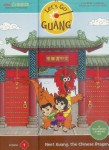 Synopsis
This is the premiere episode, Meet Guang, the Chinese Dragon, and we meet Ling and Kai. It begins when they visit their grandparents and to their delight, unexpectedly, they discover Guang, a fun-loving dragon. The materials in the kit which accompanies the DVD will reinforce and expand on the vocabulary learned in the story to give your children multiple ways to retain the language. Your children will learn how to properly pronounce over 45 useful everyday words, phrases and sentences, including greetings, introductions, numbers, and much more!
Dove Review
This is a wonderful way for the entire family along with the children to learn the language of Mandarin Chinese. This is a fantastic box set that includes helpful flash cards, a guide for parents or teachers, a colorful illustrated story book with audio CD and the DVD of episode one.
Your children will enjoy the fantastic story as they learn the Chinese words and phrases such as hello and goodbye, the names for grandparents and parents and much more. To help them remember and practice what they have been taught there are the flash cards that show how the words are written in Chinese, the Chinese word and the definition in English. It's a great way to add this wonderful language to your children's vocabulary. We understand by studies that children are able to learn many languages at an early age. From the people at Aha! Chinese(TM), this collection of helpful tools will get you and your youngsters started in the world of bi-lingual knowledge. It's a great set for parents and teachers alike. We award the episode one collection the Dove "Family Approved" Seal for all ages.
Info
Industry Rating:
Not Rated