Miracle of the Widow
DVD Release:
June 7, 2009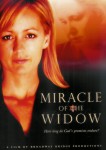 Synopsis
Ruth Zellar's family has kept the secret for centuries. Greedy men, disasters, persecution, even the Nazis could not remove the treasure entrusted to them by God. Humbly and quietly the servants of Yahweh continued their work, always on guard.
From the first moment Grace Harrington enters the bakery she is uneasy. Previous prejudices lead Grace to take matters into her own hands. Events intensify as Grace encounters locked doors, odd rumors, and an insistant are dealer. Can Ruth entrust Grace with her family's history? Will Grace have the faith to accept the truth? Or will the gift, kept safe for the thousand generations, be forever lost?
Dove Review
There is irony in this story, which happens to be a pretty good story by the way. Grace Harrington has just earned her Masters degree in California and leaves her parents and sister behind to take a job in Oregon as a teacher. Her mother calls Grace when she first moves into her apartment to make sure she is attending church. Grace doesn't want to talk about it, telling her mother that she just got there.
Later Grace learns that it is a ritual for her fellow teacher, Karen, to walk with the kids after school and to stop by a bakery called "His Bakery" where a kind woman named Ruth gives free samples of warm bread to the children. Grace objects to the fact that the parents don't know about the stops at the bakery, and that Ruth includes Bible verses on her bags of bread. She goes to an official who puts the brakes on the daily visitation to see Ruth. Karen and Grace's boss, Bill, are not very happy with Grace, in part due to the fact that the bread is a supplement to some of the children who come from low income families.
Later, due to continually being late, Grace loses her job and after searching in vain for work finds the only place she can find work is at…that's right, Ruth's bakery! She learns that Ruth's father, Yanish, was separated from his family during the holocaust. Ruth and Grace begin to grow close and then a series of events take place which astonishes Grace.
This is a well told story with more than one good moral point being made, such as not judging too quickly and the importance of maintaining a relationship with God. It also drives home the point that miracles are not a thing of the past. We happily award our Dove "Family Approved" Seal to this movie.
Info
Company:
Broadway Bridge Productions
Industry Rating:
Not Rated
Reviewer:
Edwin L. Carpenter