Homeless for the Holidays
DVD Release:
October 16, 2009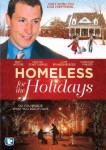 Synopsis
Jack Baker (Matt Moore) was a successful marketing director, on the fast-track to the top – until a mixup with a faulty label cost him his job. Unable to find another executive position in a shaky economy, Jack must take a job at a local burger joint in order to make ends meet. Unfortunately, he discovers that his minimum wage job is NOT making ends meet, and that, if something doesn't change soon, his family could lose everything by Christmas! Produced by Breathe Motion Pictures.
Dove Review
This is an incredible story of hitting the bottom but that perseverance can help a person get through anything. Jack Baker and his wife Cheryl and two children seemed to have an idealistic life. Jack held a high salaried position. Everyone wanted something from Jack. He had no idea that soon he would be the one seeking help.
When a fellow employee changes a label at the pharmaceutical company he works at, Jack is wrongfully accused and loses his job. He finds himself flipping burgers at the local burger joint. He soon loses everything. His electric is turned off, his car repossessed and he loses his home. There are touching moments in the movie, including when a child helps Jack out. Jack winds up living in the back of a church with his family and then in a tent. Along the way he and his family help a homeless man out at Christmas time and Jack learns some lessons he will never forget. We won't give the ending away but it is worth it to watch to see what happens.
This may not hold the interest of very young viewers, but we gladly award our Dove "Family-Approved" Seal to this movie for everyone. It will make you feel good in the end, even if it is not viewed during the holidays!
Info
Company:
Bridgestone Multimedia Group
Industry Rating:
Not Rated
Reviewer:
Edwin L. Carpenter