The Christmas Clause
Theatrical Release:
December 18, 2008
DVD Release:
November 10, 2009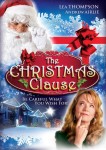 Synopsis
Sophie Kelly is a top-rated lawyer with three kids and a husband that takes up all her time. All of her family and work stress comes to a chaotic halt at the shopping mall, days before Christmas, when she sees Santa and wishes for a different life. However, the grass is not always greener as a single, successful lawyer with her own firm and the most eligible bachelor vying for her attention. Freedom has its price as she realizes the sweet life is not so sweet and must race against time to find the true meaning of family and love before Christmas Day.
Dove Review
Everyone gets overwhelmed sometimes and Sophie's life is no different as she tries to juggle her home, husband, kids, and job. Add the fact that it is Christmas time, and so why not make a wish to have a different life? Like that of one of her old school friends. The movie shows that the life you dream of is not always easier or better than the life you have.
This comedy takes Sophie to the world she thought she wanted but now she realizes that all she wants is her husband and family back. To do that she must find her real feelings to get her family back. Some hilarious situations happen as she tries to find the answers.
Info
Industry Rating:
Not Rated