One Good Man
DVD Release:
October 9, 2009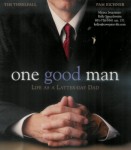 Synopsis
Aaron Young (Tim Threlfall) is a good man. But even food men can be put to the test. Just when it seems his life can't get more complicated, it does. Pressures with his job are reaching the breaking point, one daughter us struggling to find herself and another has found a fiancé` -complete with future in-laws who are anything but supportive. To top it all off, Aaron has been called to be the bishop of his ward. At this pivotal point in his life, Aaron wonders if anything he does helps the people closest to him. A warm and deeply moving film about the choices and complications of everyday life, "One Good Man" is the story of an unsung hero trying to do the right thing, regardless of the consequences.
Dove Review
This is one good movie about one good man. Tim Threlfall is excellent as Aaron Young, a Mormon with six kids, pressure on the job, and a new opportunity as he becomes a bishop in his church. Aaron is confronted with many of the same problems we all are. He has a teen daughter who continually arrives home late at night; a daughter about to be married, a son who is preparing to leave for a missions trip, and problems on the job. His boss, Mr. Lyman, wants Aaron to lay off a lot of people. Aaron fights against this, coming up with a plan to keep everyone working. When his boss doesn't go for it, then his next plan is to keep as many working as possible. In addition, his daughter is going to marry a young man named Peter in the temple, and Peter's mother and father, because they are not Mormon, cannot attend the ceremony. Aaron attempts to work this problem out with Peter's father. When Aaron has to lay off a friend and member of his church, the load becomes almost unbearable. He responds by being the best bishop he can be to the man, helping out with employment leads and offering to help his family with their material needs.
One of the strengths of this movie is that it shows Aaron as a man who knows how to maintain faith as he searches for solutions to the problems he is faced with. He doesn't give up nor complain. In addition, the movie does not attempt to proselytize the viewer to the Mormon faith, but does include some comments about Jesus being the savior and it shows Aaron pray and read from 1 Corinthians. The subject matter is a bit mature for young viewers, so we are recommending this film for ages twelve and over. "One Good Man" will no doubt inspire many viewers to be the best husband, father, and worker they can be. When a movie can do that, we want to recommend it.
Info
Reviewer:
Edwin L. Carpenter