Molly Pickens and The Rainy Day Castle
DVD Release:
October 1, 2009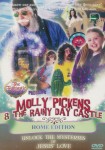 Synopsis
After a mysterious box transporst young Molly Pickens to the Fantastic World, she learns she is the last hope for the fading land. The wise Box Maker knows that only a love like Jesus' love can save his beloved home from the clutches of Rainy Day, the not-so-kind ruler who seeks to end happiness in not only the Fantastic World, but Molly's world as well. The Box Maker teams Molly up with a crazy cast of unforgettable characters, including the always hilarious and unpredictable Bill and Charles Peterson, an ill-tempered but lovable plant named Cranky Cactus and Mr. Face, a silly clock that never knows the time. Molly's new friends will teach her what it means to love like Jesus and help her save the Fantastic World.
Dove Review
This is one continuous story told in eight chapters that tell of the importance of love for the world around you. It is a colorful film with many zany characters to show the lessons in love. They also show that it is not just the things you do but what Jesus has done to show us his love. With supporting Bible verses, the group from the Fantastic World teach Molly how to open the secrets of Jesus' Love.
This is a show for everyone to learn of the great love that has been given to us. Filled with comedy and encouragement along with lessons of faith and forgiveness, this is a wonderful family-friendly DVD. We award "Molly Pickens and The Rainy Day Castle" the Dove "Family-Approved" Seal for all ages.