Malatya
DVD Release:
October 20, 2009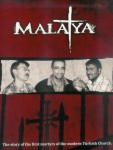 Synopsis
In the middle of the day on April 18th 2007, three men are murdered inside a Bible publishing office in Malatya, Turkey. They were tied up, interrogated about their 'missionary activity and tortured with butcher knives. Finally, they were killed just minutes before the police broke down the door.
The murders sent shock waves throughout Turkey, especially amoung the tiny Christian population, who are 3000 among millions who believe that they are anti-government agents seeking to overthrow the Turkish way. Despite the hardships, the families and friends of the victims, as well as the greater Turkish community, persevere.
Malatya shows who these men were, what happened and how their deaths are instrumental to understanding the larger situation the Turkish Christian community is now in. As the widows and close friends of the victims tell the stories of their companions and their own personal loss, a powerful story unfolds, challenging any who watch it with what it truly means to have faith to endure and most of all, to love your enemies.
Dove Review
This is a martyr's story which needs to be told. Three Turkish Christians who work at a Christian publishing house are murdered for their faith: Necati Aydin, Tilmann Geske, and Ugur Yuksel. This actually happened on April 18, 2007. The video brings their stories to life by interviewing family members, friends, and local pastors. News clips of the event are used and a few show some blood on the bodies which are being carried out in body bags. Fortunately, the scenes are quite brief and a bit blurry and not gratuitous but there is blood which is seen.
The film opens with the scripture from John 12:24 regarding how a grain of wheat must die before it can bear fruit. Then the documentary takes us through the events of that April day and what happened to these three men of faith. We learn the murderers attended a church meeting and became familiar with Necati Aydin but, as he later told his wife, they really didn't seem to have an interest in Jesus Christ. When these men arrive at the publishing office some time later to murder Necati and his companions, they try to force them to turn from their Christian faith but they refuse to do so. An artistic rendering also shows some blood from the killings but the documentary fortunately focuses on the lives of the three men. You meet them in photographs, and hear Necati singing a song to the Lord with a gallery of photos displayed as the recording is played.
The video also shows Elisha, Necati's son, who sings a song for his father. The video may be painful in spots to watch for those who have lost loved ones who were close to them. Sesme, Nicati's wife, remembers the last time she saw him, smiling, before he left her and she breaks down crying. A buddy of his also recalls his friend and sheds some tears. Susanne, Tilmann's wife, shares her recollections of her husband. Despite the deaths, the passion they felt for their faith is strongly revealed. As Sesme states, "Jesus died for Necati, and Necati died for Jesus." We learn that Tilmann was a calm man who played guitar in church and loved his family.Uger called himself the Son of Truth, referring to Christ as the way, the truth and the life.
Ihsan, a local pastor, addresses the media after the murders and voices his concerns about "missionary hunts" taking place in Turkey. We learn that another pastor was targeted to be murdered but the plan was thwarted in time. The video also mentions the beginning of the trial which is still on-going.
There are obviously mature themes in the DVD but this story of these three men who died for their faith is also inspirational and speaks of great courage. The Apostle Paul's words are quoted near the end of the DVD: "To live is Christ and to die is gain." We gladly award this DVD our Dove "Family-Approved" Seal for ages twelve plus.
Content Description
Violence:
Corpses of the murdered Christians are seen with their faces covered up for the most part and in body bags; some blood; artistic rendering of the killings; comments about what took place.
Violence:
Corpses of the murdered Christians are seen with their faces covered up for the most part and in body bags; some blood; artistic rendering of the killings; comments about what took place.
Info
Company:
FamilyChristianMovies.com
Starring:
Narrator: Edward Flemming
Reviewer:
Edwin L. Carpenter