Maggies Passage
Theatrical Release:
October 6, 2009
DVD Release:
October 6, 2009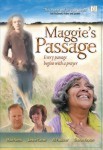 Synopsis
Maggie (Ali Faulker) is an 18 year-old girl who leaves her adopted Christian home after her father's tragic death. Trying to fill a void in her life, Maggie feels the need to locate her birth mother. What she finds is not what she hoped for. Maggie finds a mother that does not love her or want her. Maggie gets caught up in this woman's world. After a few months enough becomes enough and when all hope is lost, one desperate night she reaches her breaking point. In a rage, she releases her frustrations by destroying the seedy hotel room that has been her home. At her feet falls a Bible, and it is then she realizes that there is only one thing that can break the bondage she is in and that is Jesus Christ our Savior. She realizes through God's Word that he has a better plan for her life. Finding the courage she runs away from the nightmare she has been living. With the faith of a mustard seed, Maggie has no place to go but living on the streets alone, broke and scared.
Maggie meets just the right people, Max and Grace, who will make her passage a reality. Grace (Sheran Keyton Goodspeed) gives her shelter and wisdom, while Max (Mike Norris), broken himself, becomes a father figure. These two take Maggie under their wings and help her get to where she belongs, at home with her adopted mother(Janine Turner) who has been praying for her safe return.
Dove Review
Here is a dramatic movie about one young girl's passage of forgiveness, realization of God's love and being special when adopted. We all endure hard times in our lives and we tend to forget that God is always there for us. Maggie has a great adopted family, but when her father dies she needs to search for her roots. But the answers she is looking for are not with her birth mother, which sends her into a world that Maggie cannot forget nor forgive.
This is a story that shows that we all need a passage in our lives sometimes and that we forget that God always loves us and is there for us, we just need to look and rely on him. There is also a message that adoptive children are special because they are chosen just as God chose all of us as his children with his love. This is a truly wonderful story of helping others, forgiveness and the love that God has for us We award the Dove "Faith-Friendly" Seal for ages 12 and above due to some of the issues in this film.
Content Description
Violence:
Man bullies young girl; young girl destroys things in a room; two men grab young girl; man punches and kicks men.
Language:
All references to God are in reverence; birth mother tells baby "I Hate you" many times in a flashback of the past.
Violence:
Man bullies young girl; young girl destroys things in a room; two men grab young girl; man punches and kicks men.
Info
Company:
Bridgestone Multimedia Group