Jennifers Body
Theatrical Release:
September 18, 2009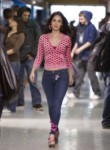 Synopsis
A sexy horror film with a wicked sense of humor, "Jennifer's Body" is about small town high school student Jennifer (Megan Fox), who is possessed by a hungry demon. She transitions from being "high school evil" – gorgeous (and doesn't she know it), stuck up and ultra-attitudinal – to the real deal: evil/evil. The glittering beauty becomes a pale and sickly creature jonesing for a meaty snack, and guys who never stood a chance with the heartless babe, take on new luster in the light of Jennifer's insatiable appetite. Meanwhile, Jennifer's lifelong best friend Needy (Amanda Seyfried), long relegated to living in Jennifer's shadow, must step-up to protect the town's young men, including her nerdy boyfriend Chip (Johnny Simmons).
Dove Review
Effective January 1st, 2009, The Dove Foundation Review Team has ceased reviewing all NC-17 rated movies and certain extraordinarily explicit R-rated films. This decision was reached due to the fact that Dove reviewers are parents or grandparents with conservative values. As such, we feel that we can no longer expose these dedicated and caring people to movies that contain distasteful and appalling stories that are focused on graphic horror and violence, and/or gratuitous depictions of explicit sex and nudity.
"Jennifer's Body" is considered to be such a film. Our report is therefore limited to the business information (title, rating, distributor, producer, director, actors, etc), synopsis, and the content chart.
Info
Company:
20th Century Fox
Reviewer:
Edwin L. Carpenter