How Will We Love?
DVD Release:
September 10, 2009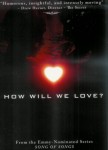 Synopsis
From the passion of early romance and vows of ever after, to the security and peace of a couple that have made it through life's journey together, love has many beautiful and promising moments. On the other hand, our human nature has a darker side. Insecurity, selfishness, deception and temptation can turn the high points of relationships into jealousy, conflict, infidelity, and ultimately a broken dream. "How Will We Love?" is a film that explores our human experience with romantic love and the modern dynamics that challenge long term commitment.
Dove Review
This is a program that, while not containing a lot of strong content, is meant for adults or mature teens. It deals with the topic of marriage and looks into the reasons that some are successful marriages while others don't make it. Chris Brickler directed this film, with some of it based on his grandparents' marriage. Arthur and Eva Brickler were married for sixty eight years as of the making of this documentary. They speak of the difference their Christian faith has made and how they weathered the various storms of life.
The video makes use of several experts in the field, including ministers, a rabbi, and professional people who have authored books on the topic of successful and failed marriages. Some of the various discussions are focused on couples moving forward when the "shine" of the relationship is no longer there, and dealing effectively with elation and despair. Others agree that some people take marriage too lightly, looking at marriage as "dating" and a divorce as a "break-up" rather than it being the devastating thing it really is.
Ed and Lisa Young discuss the book they co-authored titled "The Creative Marriage." Common people and couples mention the good and bad they have experienced in relationships. Many couples or would-be couples will find this DVD very helpful. And who better to listen to than a couple who have been married for sixty eight years? We gladly award this DVD our Dove "Family-Approved" Seal for ages twelve and above.
Info
Industry Rating:
Not Rated
Reviewer:
Edwin L. Carpenter