The Road Less Traveled
DVD Release:
September 1, 2009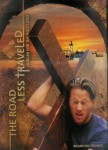 Synopsis
Embark on an epic journey with Brandon Trones, as he roams the Holy Land in search of the imprints of God's footsteps on Earth.
This educational documentary extensively covers the trials, failures and victories of Trones' 40-day expedition and spiritual fast that repeatedly push him past the brink of exhaustion. Filled with prayer, meditation, and adventure, "The Road Less Traveled: Hunger for the Holy Land" reveals over 40 physical itmes and places that historically support the Bible as fact, including 20 items never before filmed.
Dove Review
Brandon Trones has you follow him around Israel as he visits the famous sites of the Holy Land, including the garden tomb of Christ, Lazarus' tomb, Bethlehem, Mt. Sinai, and many other locations. During this time Brandon fasts for forty days. His fast includes a fast of water, a bread and water fast, a grains and vegetables fast, and finally a liquid fast which includes skim milk, juices and water.
Brandon also carries a cross on the same path which Christ did so long ago. He is baptized in the river Jordan and then must fight depression when a man who attended his baptism and prayed for him passes away the next day.
Brandon fights doubts and hunger pains, and has a few confrontations with his guide Mike, who doesn't like it when he illegally video tapes some forbidden locations. This DVD is a window into the world of visiting the Holy Land and all that it entails. See what changes take place in Brandon's life as a result of the fast, including an extraordinary event the day after his fast. The very young will find the DVD a bit mature for them but we gladly award the film our Dove "Family-Approved" Seal and recommend it for all ages.
Info
Company:
Bridgestone Multimedia Group
Industry Rating:
Not Rated
Reviewer:
Edwin L. Carpenter