Faith of Our Fathers
DVD Release:
September 1, 2009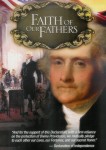 Synopsis
Faith of Our Fathers is a fascinating documentary film that takes a look at what the founding fathers of the United States intended when they framed the Constitution and wrote the First Amendment religion clauses. Were the fathers of our country like Thomas Jefferson trying to create a Christian nation, a secular paradise, or something in between?
The documentary takes a look at how our understanding of church and state relations has changed over time due to Supreme Court decisions and cultural pressures. From Everson vs. Board of Education to the most recent decisions over displays of the Ten Commandments, such interpretations are explored in comparison to our nation's founders' original intentions.
Dove Review
This is a fascinating documentary about what our forefathers intended regarding any wall between church and state and what is occurring now in our country. Newt Gingrich shows up at the beginning to comment on the importance of this DVD. This documentary gives convincing evidence that the Federal Government did not want to embrace a particular religion but wanted to give local states the right to make religious decisions. In addition, the government was not to prohibit the expression of religious freedom, something which many would argue has happened in today's society and that the roots of these changes are found in our American court systems. The fact Washington and John Adams held days of fasting is featured. Thomas Jefferson's intents are also examined in this interesting DVD.
The documentary features the voices of an ACLU representative, who states that both former president George W. Bush and former vice president Al Gore mentioned Jesus as influences. Dr. Steven Monsma, Dr. Daniel Dreisbach, Dr. James Hutson, and others join in with comments regarding what they believe the original intent was of our founding fathers. It is interestingly noted that the Christian/Protestant faith was established to be the religion of South Carolina and the Delaware Constitution proclaimed faith in Christ. It's interesting to note that while one man in the documentary believes our forefathers would be against the 10 Commandments being displayed in government offices, yet the 10 Commandments and a depiction of Moses IS displayed on the Supreme Court building and other government buildings. The work to free slaves in England by William Wilberforce is featured as well.
With comments in the DVD like distinctive leaders as Noah Webster believed the 10 Commandments should govern all civil law, a point is made that the interpretation of the Constitution and subsequent amendments are seen quite differently in the world of today. This documentary deals with sophisticated themes and a few violent images so, although we are happily awarding our Dove Seal to the DVD for its important subject, we are recommending it for ages twelve and above.
Info
Company:
Bridgestone Multimedia Group
Industry Rating:
Not Rated
Starring:
Narrated by Liev Schreiber
Reviewer:
Edwin L. Carpenter